Perhaps it was time for Marcus to leave. He began to feel foolish standing behind his friends, like a skeleton at a feast, with his somber attire and lack of conversation. Yet he could not summon the will to leave, fascinated as he was by Mademoiselle Juliette's animated expression and delicious figure. He could not help wondering how it would feel to put an arm around that slender waist, to kiss those ripe lips. To untie the laces that held the tiny bodice closed and kiss that white skin, and learn for himself if it was as soft and dewy as it looked…
Too late, he realized that Mademoiselle Juliette had dismissed Jerry and his friends. He found himself staring once more into her questioning blue eyes. Was she blushing, or was it a trick of the candlelight on her painted face?
"Monsieur, I asked your friends to leave so I may practice my steps," she said, a hint of reproach in her voice.
He flushed in response. He knew he should just bow and leave, yet he felt a desperate urge to retrieve his blunder in a more graceful manner. Perhaps she would enjoy being addressed in her native tongue.
"Excusez-moi, Mademoiselle," he said, and continued in the same language. "Forgive me. I was lost in admiration of your beauty."
Where had those words come from? he wondered. He would not have dared to utter such a compliment in his native English, but in French the words had come tripping right off his tongue. Perhaps it was all the Burgundy he'd drunk at dinner.
"Ah, you are a Frenchman?" she asked, and he stared at her in shock. Was his accent that good?
"No, I am desolated to admit I am not a countryman of yours," he replied, having paused just long enough to remember the persona Jerry had devised for him. "I have just completed a prolonged sojourn on the Continent."
She seemed to stiffen, and he wondered why.
"Did you see much of France, monsieur… monsieur? I believe you have the advantage of me."
"My deepest apologies, mademoiselle. I should have introduced myself. I am Lord Dare, at your service." He bowed, hoping he did not cut too clumsy a figure.
"I am delighted to make your acquaintance, milord," she replied, sweeping him a slow courtesy, extending a gracefully arched foot in a dainty slipper and giving him an enticing view of her décolletage.
"I hope you are enjoying our performance, milord," she said, straightening up.
"Very much. I have seen nothing so wonderful before."
Her eyebrows rose. "I am certain you are accustomed to far superior performances at the Paris Opera House."
"Unfortunately, I had little luxury of indulging in such pleasures," he replied, hoping to retrieve his slip. "I am sure nothing could be more lovely than what I have seen tonight."
"You flatter me, milord. But now you must permit me to continue practicing. Soon I must partake in the divertissement."
As she looked up at him, Marcus thought her smile seemed different than the ones she had bestowed on his friends. Had she enjoyed their banter, or was it merely the wine befuddling his brain? Was it his imagination, or did her eyes seem even larger, her lips redder and fuller than before? No doubt those lips had been kissed countless times before, but they were no less tempting for all that.
"Milord, what must I do to convince you to leave?" she asked. She looked at him pointedly, but her voice sounded intriguingly breathless.
"Kiss me."
The words slipped from his lips before he could stop them. What had come over him, to be so bold? Good God! He'd never kissed anyone before. He was bound to make a laughingstock of himself. But he might never get such a chance again. It was worth the risk.
Juliana looked up at Lord Dare, at a loss for how to deal with him. She'd been uneasily aware of his presence as he had hovered, silent and mysterious, outside the circle of foolish admirers she cultivated as a shield from more dangerous bucks. With his height, his broad shoulders, lean frame and darkly elegant attire, Dare looked more rakish than any gentleman she had yet encountered in her impulsive masquerade.
As he took a step toward her, she noticed he walked with a slight limp. Had he been injured during his sojourn on the Continent, perhaps in a duel with a bitter Bonapartist? Although he seemed not to be out of his twenties, there were faint lines around Dare's eyes and mouth that spoke of pain and experiences she could only imagine. There was no doubt that he had traveled widely. It was alarming to have met someone so fluent in the French tongue.
Equally alarming was the look of keen intelligence in the aristocratic, sculptured lines of his face, and the intensity of his gaze. At first his eyes had seemed green, but now that he stood quite close Juliana saw they were an intriguing hazel, a mixture of blue and green, with flecks of golden brown about the rims of his irises. Colors of adventure, of the land and sea and sky, she thought for a mad moment, heart pounding wildly at his proximity.
She reminded herself that he might be a real rake, unlike Jeremy Plumbrook and his friends, who only pretended. She had to find a way to repel his advances without ruining her disguise. A light approach would probably serve best.
She assumed what she hoped was jaded air, and said, "Ah, but I am weary of kisses. You cannot wish for one so badly."
"I assure you, Mademoiselle, that having received one kiss from your lips, I would die a happy man," Dare replied, his husky voice caressing each word.
"But I do not wish any man's death on my conscience!" she parried.
"Ah, but I think I shall die if you do not kiss me," was his instant reply. An earnest note in his voice seemed to belie his theatrical words. He was nothing like the fools who had kissed her so clumsily in the past. Perhaps his kiss would be different. She had wanted experiences, adventures. Why not seize this one?
"Come, you cannot begrudge me just one kiss."
Awaiting her reply, he stood so close that his pantaloons pressed the full, short skirt of her costume back against her limbs. She saw desire in his eyes, a look of determination about his firm-lipped mouth. Why not let him kiss her? Mademoiselle Juliette Lamant was an abandoned woman already, with no reputation to be smirched. Theirs would be a kiss without consequences. It was too tempting.
"Very well, milord," she said, lifting her chin. "You may have just one kiss."
He expelled a deep sigh, as if he'd been holding his breath. Did he desire her so much? she wondered. It was intoxicating to have such power.
He put his arms around her and drew her gently toward him. Gradually, he tightened his embrace, one arm around her waist, the other caressing her bare shoulders, the very hesitancy of his movements enhancing every sensation. When was he going to kiss her? Oh, he was wicked indeed to tease her so, prolonging the moment, making her more and more aware of her own scanty raiment, and of the ebb and fall of his breath as the crisp linen of his shirt and the smooth silk waistcoat pressed against her bare skin, his warmth pervading her whole being. This was nothing like Charles Bentwood's hasty assault.
Belatedly, she remembered to return his embrace. It was strange, but exciting, to encircle his firm, masculine body with her arms. She hoped she did not seem awkward. Finally, Dare lowered his face down to hers, and brushed her lips with his. His mouth was warm, and tasted of wine. She pressed her own lips up against his, savoring the unexpectedly pleasant sensation. A moment later, seemingly by accident, his tongue slipped between her parted lips, and as quickly withdrew again. She gasped with surprise, and then pressed her mouth back against his, in a frantic attempt to hide her shock. She had not realized one could kiss so, but it would be fatal to let him know.
Once again, his tongue penetrated her mouth, and this time, she responded, curling and playing her own tongue against his, hoping and praying she was doing it correctly. A deep, almost soundless moan rumbled in his chest, reassuring her that he was aroused by her kiss. Her worries fled as new, compelling sensations surged through her. Pleasure such as she had never experienced, and yet somehow she wanted even more…
As I was thinking about my "Three Disgraces" I decided I wanted each of them to have some specific talent. Lady Catherine plays the piano and Penelope sketches.
When I read what the author of The Mirror of Graces (1811) wrote about young ladies taking ballet-lessons, I knew what I wanted to do with Juliana. I do realize I've stretched the bounds of believability by having Juliana masquerade as an opera-dancer. I can only make the excuse that the story is a romp, it was fun to write, and I hope that readers will enjoy it, too!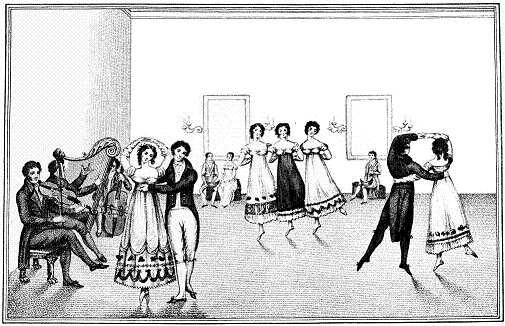 The picture above is a waltzing scene from La Belle Assemblee, February 1, 1817 which I think clearly shows the influence of opera-dancing on social dances.
Here is what the author of The Mirror of Graces (a "Lady of Distinction") writes in her chapter on "Dancing and Other Accomplishments":
"Extraordinary as it may seem, at a period when dancing is so entirely neglected by men in general, women appear to be taking the most pains to acquire the art. Our female youth are now not satisfied with what used to be considered a good dancing-master; that is, one who made teaching his sole profession; but now our girls must be taught by the leading dancers at the Opera-house.

"The consequence is, when a young lady rises to dance, we no longer see the graceful, easy step of the gentlewoman, but the laboured, and often indelicate exhibitions of the posture-mistress. Dances from ballets are introduced; and instead of the jocund and beautifully-organized movements of hilarity in concord, we are shocked by the most extravagant theatrical imitations. The chaste minuet is banished; and, in place of dignity and ease, we behold strange wheelings on one leg; stretching out the other till our eye meets the garter; and a variety of endless contortions, fitter for the zenana of an eastern satrap, or the gardens of Mahomet, than the ball-room of an Englishwoman of quality and virtue.

"These ballet dances are, we now see, generally attempted. I say attempted, for not one young woman in five hundred can, from the very nature of the thing, after all her study, perform them better than could be done any day by the commonest figurante on the stage. We all know, that, to be a fine opera-dancer, requires unremitting practice, and a certain disciplining of the limbs, which hardly any private gentlewoman would consent to undergo. Hence, ladies can never hope to arrive at any comparison with even the poorest public professor of the art; and therefore, to attempt the extravagancies of it, is as absurd as it is indelicate."
I suppose Juliana is rather indelicate. Sigh…
Here is a depiction of the Green Room at the King's Theater, showing dancers practising their steps and rakish gentlemen ogling them!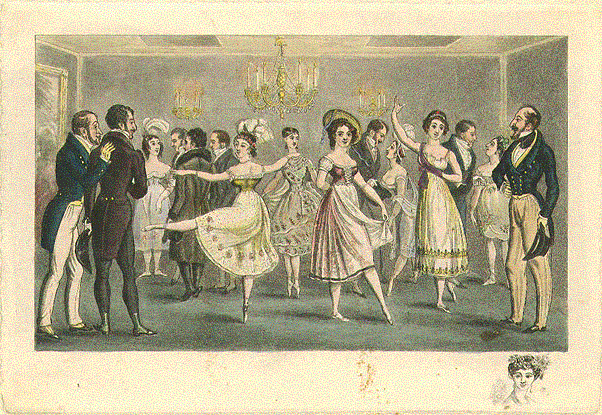 After the masquerade is ended, the hero, Marcus Redwyck, the Earl of Amberley, takes Juliana to his home in the Cotswolds, an area of England that always makes me think of the Shire from Tolkien's Lord of the Rings. Below are a few scenes from the Cotswolds.
Here's the famous cottage-row in Bibury, perhaps the most-photographed village in England.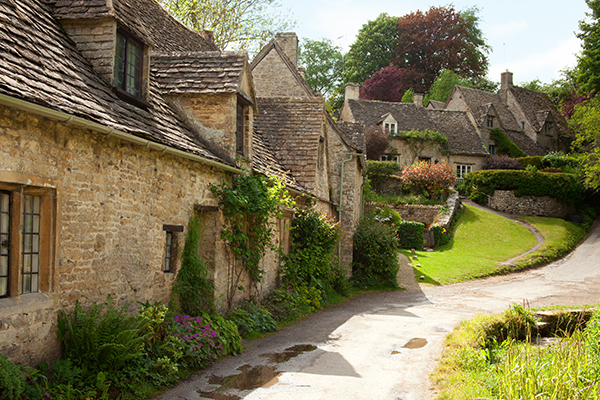 And here's a view of the countryside.