Gil Manning, Waterloo veteran turned aeronaut, crashes his balloon and is brought to the cottage of Emma Westfield, the village schoolmistress. His injuries partly healed, he has accepted an invitation to stay with the local squire until he is completely recovered. Now he must say goodbye to Emma.
"So it ends, Mistress. I hope you are not too happy to be rid of me."
She blinked, fighting a rush of tears.
"I shall miss you," he said.
"You will have other ladies to console you."
"Jealous, are you?"
"Not a bit. I am only delighted to have my parlor back."
"Shrew! So cruel, when you know I'll be pining for you."
She couldn't bear any more. "Save your silly speeches! I don't need any more of your pity."
His eyes narrowed. "You think I've been flirting with you out of pity?"
He took a step toward her, more outraged than she'd ever seen him. She backed away. "I think you feel sorry for me, for my situation. While I do not think you find me… unattractive, I—"
She broke off, finding herself with her back against the wall and Manning just inches away. He glanced around, took her hands and pressed her against the wall.
"What are you doing?" she asked, heart racing.
"Showing you just how much I pity you."
He kissed her, gently at first. Dear heaven, it was sweet, the intimate taste of lips, the press of bodies together. Sweet, familiar and yet different somehow… Was she disloyal to allow it? Yet she did allow it, a hungry ache spreading through her. Just a little more…
His tongue explored her mouth, a sensation that was unfamiliar and shocking. He released one of her hands and began to caress her waist, then slid his hand up slowly to cup her breast. She gasped in surprise. No one had ever touched her there. Undeterred, he circled his thumb, seeking her nipple through the protection of cotton gown, stays and shift, another new and shocking sensation. Her nipple strained against her stays; heat spread through her core. She longed for a more direct touch, skin to skin.
She ought to stop him. She ought not to behave like a lonely spinster desperate for any touch, any crumb of affection. But the traitorous voice within her continued to whisper. Just a little more…
She moaned and put her free hand around him. It felt natural, even right to pull him closer. Natural and right to join in his tongue play, to feel a thrill of power as he groaned and hardened against her belly. Just a little more…
Then he broke the kiss and took a step back. His breath echoed in the quiet room. She sagged against the wall, flushed and breathless, bereft of the ability to speak or even stand on her own.
She was mortified by her weakness.
His voice was so rough she barely recognized it. "Now do you understand why I must leave you?"
She could only nod.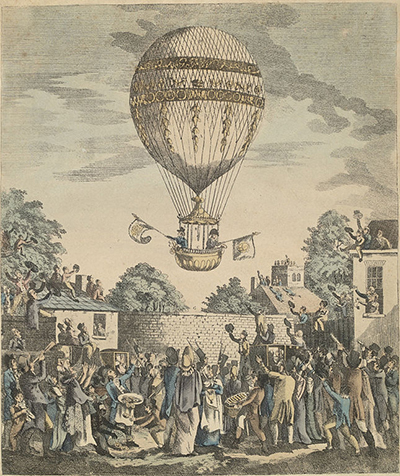 When I first had the idea of a balloonist hero, I thought of him as a carefree, fun-loving counterpoint to a hard-working heroine who badly needs to learn to enjoy life again.
Gil was a fun hero to write, and I thoroughly enjoyed my research into the history of ballooning. However, I soon learned that he has a darker side. There are reasons why he has learned to live in the moment, reasons related to his estrangement from his family and his military career, which ended after the horror of Waterloo.
One of the many books I read while researching Gil's background was Adventures in the Rifle Brigade, by Sir John Kincaid. There was a quote there that spoke to me about what Gil and others like him faced after the war.
"We had been born to war, reared in war, and war was our trade; and what soldiers had to do in peace, was a problem yet to be resolved among us."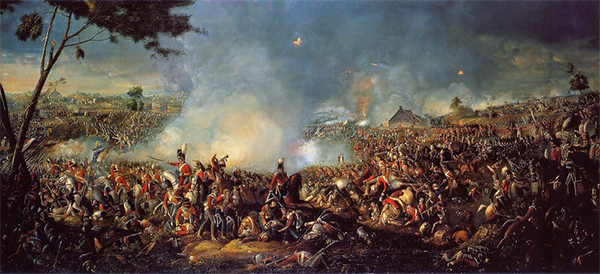 After he crashes his balloon in a rural area of Sussex, Gil is taken to the cottage of Emma, the village schoolmistress. I imagined it to look something like this.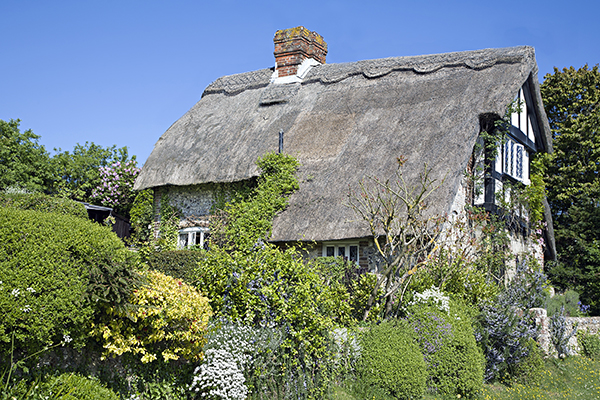 I lived in Sussex for three years while on an international assignment and was lucky enough to enjoy springtime walks through woods carpeted with bluebells. I often give my lovers a chance to stroll through them, as I do with Emma and Gil.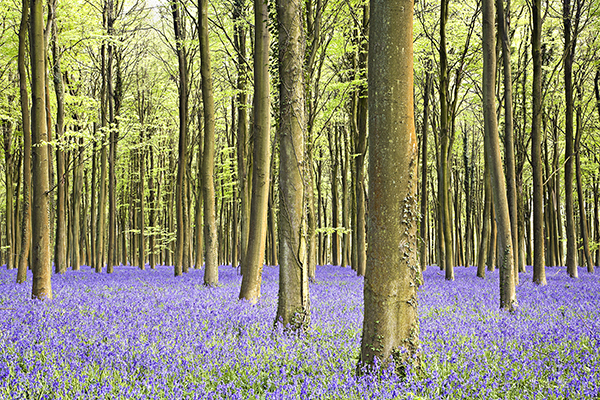 Eventually, Gil takes Emma back to his ancestral home, in open, breezy Norfolk, where windmills like this were often used to control drainage and keep fertile land in cultivation to help feed a hungry country.